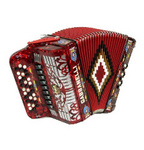 Gabbanelli Accordions
Shops
Location:
4991 West Bellfort Ave.
Houston, Texas
About:
Gabbanelli Accordions is world renowned for producing premium accordions and instruments with unique designs and the finest tonal qualities.
Founded in the early 1960s by the late John Gabbanelli, Gabbanelli Accordions is rich in history and entrenched in artisan tradition. Every product is designed and created in our family-owned factory in Italy — International Music Company. We take great pride carrying out our family tradition of providing high quality, handmade instruments and excellent customer satisfaction. Through our dedication to individualism, we welcome requests for custom designs, special orders, and a variety of fine color finishes and models.
Here at Gabbanelli Accordions we offer a full service on-site tuning and repair department. With special attention to every detail by highly skilled professionals, our services are guaranteed. We provide custom tuning to fit your style of music. With our expertise and factory-trained craftsmen we can expand the longevity and enjoyment of your valued accordion. Whether in Houston or out of State we provide quick turnaround for the active musician.
Contact:
(800) 244-0763
info@gabbanelliaccordions.com
http://www.gabbanelliaccordions.com/

Want to add or edit a listing? Let us know.