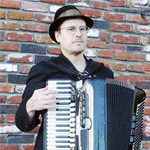 Location:
Oakland, California
About:
Aaron Seeman is an accordionist, composer and accordion teacher based in Oakland, California. Since 2003, as the solo act Duckmandu, Seeman has recorded three CDs using accordion and voice to create renditions of punk rock. Also he has recorded a solo CD of more traditional material, including klezmer and Balkan music.
Seeman was a founding member, arranger and vocalist with the Punk Rock Orchestra, a San Francisco-based 50+ piece symphony orchestra that performs punk rock music arranged for classical instruments. In 2004, Seeman was a founding member of the Balkan/Gypsy-style music group Fishtank Ensemble, and toured each Fall with them until 2008 when the group relocated to the Los Angeles area.
Even while active in other bands, Seeman continued to perform and record as Duckmandu, as well as teaching accordion, giving private lessons to students in the San Francisco Bay Area
Contact:
(510) 601-1117
aarondo@amazingaccordion.com
http://www.amazingaccordion.com/

Want to add or edit a listing? Let us know.