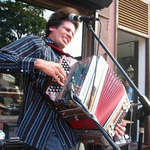 Location:
Allentown, Pennsylvania
About:
Alex has over 13 years of experience teaching private lessons on Trumpet, Piano and Button Accordions, as well as other brass instruments, jazz improvisation and musicianship skills.
Using his formal background (BM in Music Education/Trumpet Performance from Ithaca College and MM in Trumpet Performance from Penn State), as well as his practical experience (performances in just about every imaginable type of ensemble and solo situation), Alex contours his teaching methods to the unique goals and learning style of each student.
Whether Alex is working with a beginner (of any age) or an advanced semi-pro, he helps the student achieve their musical goals through thoughtful and logical musical development.
Contact:
Want to add or edit a listing? Let us know.