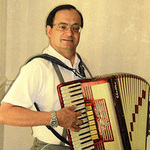 Location:
Conyers, Georgia
About:
Bob Planner is a one-man-band and plays accordion and synthesized accordion, performing songs from the 1900's to present time, as well as international music. He has performed at numerous venues throughout Atlanta, from country clubs, to the Ritz Carlton Buckhead, to the Ms Georgia Senior America Pageant.
Contact:
(770) 388-9251
http://www.atlantamusicians.com/amm/pages/bplanner.html

Want to add or edit a listing? Let us know.