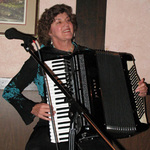 Location:
Seattle, Washington
About:
Bonnie began accordion lessons at the age of 7. Her primary teacher up to the age of 19 was Thorild Swanson from Stancatto School of Accordion. Thor was a classically trained musician on the piano and organ and was noted for his attention to detail and desire for perfection. With his guidance, Bonnie developed excellent technique, music reading skills, performing skills, and the appreciation of practice and patience. She was a consistent winner at the Washington Accordion Teachers competitions culminating in a trip to New York for an International competition and a performance in Carnegie Hall.
Currently, Bonnie is retired from the computer field and is a fulltime musician. This includes performing in many diverse situations and performing with many other skilled musicians. It also includes studying. Bonnie is concentrating on jazz studies and has studied with highly reputable artists such as Marc Seales, Doug Miller, Randy Halberstadt, Fred Hoadley, and Marc Fendell. She has also studied with respected accordionists Ken Olendorf and Gary Dahl. Bonnie is continually attending classes and workshops to broaden her musical skills. She has a strong desire to see the accordion take it's deserved position of respect amongst other well-established instruments.
Contact:
(206) 622-4786
bonniebirch@msn.com
http://www.bonniebirch.com/

Want to add or edit a listing? Let us know.