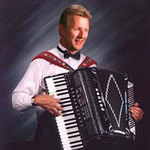 Location:
Portland, Oregon
About:
Chuck Berger has been a professional performer for 40 years. His repertoire consists of the big band sounds of the 40's … through music of the 70's and 80's! Chuck is proud to play a petosa AM-1100 MIDI accordion. Through the early years of his career, polka music was his mainstay while working with the big name polka bands in the Midwest. With the advent of the MIDI accordion, he now precisely emulates all styles of music, whether it be big band, country, vocal groups, or polkas and waltzes (Swiss, German, Italian, Polish, to name a few). His sound from stage is equivalent to a 14-piece orchestra, without the aid of computer generated background.
Accordion repairs and appraisals are now done right here in the Portland area by Chuck. He also does personal MIDI programming, and for information on his great line of speakers and equipment cabinets, or cassettes or CD's, just e-mail Chuck.
Contact:
(503) 254-0996
midimanchuck@aol.com
http://www.accordionsnmore.com/

Want to add or edit a listing? Let us know.