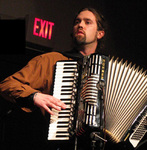 Location:
Oakland, California
About:
Dan Cantrell began composing at age 11. Since that time he has continued performing and writing music of all kinds featuring his main instruments, the accordion, piano and musical saw. In recent years his attention has been focused on the study of music from Eastern Europe as well as composing for film, dance, and theatre. He has composed music for over thirty films, several plays, a variety of dance groups and pieces as well as other eclectic performances and events. In recent years, Dan received an Emmy award as well as the Golden Gate award for his work on documentary films. He also recently had the honor of recording with one of his personal musical heroes Tom Waits.
Dan has been playing accordion for 14 years in a variety of styles ranging from Balkan, Rom (gypsy), tango, classical, and folk, to jazz and rock. Please inquire about lessons.
Contact:
Want to add or edit a listing? Let us know.