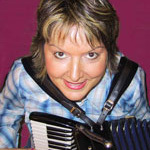 Location:
Austin, Texas
About:
With a dual career as a music educator and a performing musician, I offer much more than the typical traditional music lesson plans: Coaching you to fine tune your skills – how to play by "ear" – how to play by chords – understanding song arrangements – and, of course, the fine art of reading music notes on the Grand Staff.
Wanna Polka? Jazz? Western Swing? Cajun? Blues? Classical? Play music from your family ethnicity? I'll help you learn to play your instrument so you can turn around and play whatever style of music you aspire to!
Contact:
Want to add or edit a listing? Let us know.