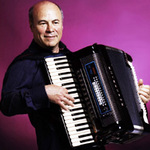 Location:
Chomedey, Quebec
About:
Dino Leone was born in Canosa (Bari) in the region of Puglia (Italy). He studied accordion with professor Alessandro Mangione, member of the Frontalini accordion Orchestra, and studied composition and orchestration with professor Frank Mella. A graduate of the Royal Conservatory of Music of Toronto in theory and rudiments, he is also a member of American Accordionist Association of New York and the Accordionists Association of Quebec. He studied also piano, classique and jazz.
He teaches privately and has given accordion lessons on technique and interpretation for Cégep Marie-Victorin, Concordia University and Vanier College in Montreal.
Contact:
(450) 688-2624
dino@dinoleone.com
http://www.dinoleone.com/

Want to add or edit a listing? Let us know.