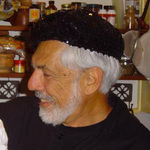 Location:
Palo Alto, California
About:
I teach beautiful tunes, unlike those usually heard on accordion. Most of the emphasis is on the melodic line with very simple left handstyles. The tunes derive from French, Italian, Greek, Bulgarian, Klezmer, Tex-Mex, Quebec, Cajun, American and Irish traditions, with only the best of the best. I have a number of small high-quality accordions to loan.
All of my teaching is based on the traditional aural method. I teach phrase by phrase until some level of learning takes place. The entire piece is then put on a cassette tape for home study. I also provide a written copy of the piece for reference purposes. No memorization is ever required in this method. You learn the pieces by heart as you go.
Reading music is a very useful skill, but it's not part of my teaching method . You should not be staring at a piece of paper while you play; your brain power becomes used up doing visual processing. Little is left over for listening to the music, paying attention to your instrument, your hands and arms, and your body rhythm. The eyes should be used to make visual contact with the instructor or with the audience when you're performing.
Contact:
(650) 493-0693
gary@gybmusic.com
http://www.gybmusic.com/

Want to add or edit a listing? Let us know.