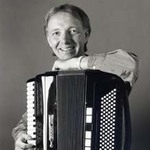 Location:
Oakland, California
About:
Henri Ducharme represents a new generation exploring the accordion's possibilities in modern and classical music. Recent performances include Four Saints in Three Acts with the Mark Morris Dance Company, Mother Courage with the Shotgun Players, and Adventures Underground with the San Francisco Symphony. Henri studied classical accordion beginning at age five. As an adult, he has directed the music for Eastern European folk ballet companies, served as music director in local churches, and taught music in local Waldorf elementary schools. He currently directs two accordion ensembles, teaches accordion privately, and teaches numerous workshops and classes including the Punk Rock Accordion Workshop.
Contact:
(510) 417-5736
info@henriducharme.com
http://www.henriducharme.com/

Want to add or edit a listing? Let us know.