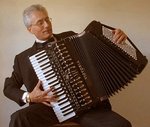 Location:
Oakdale, Pennsylvania
About:
Henry Doktorski is not simply an accordion teacher; he is a personal trainer for accordionists. Just as a serious athlete or bodybuilder needs a coach who will demand the best, a serious student of the accordion who wants to improve needs a qualified and capable teacher who can lead the way by example.
Doktorski is accepting a limited number of serious students who are interested in studying accordion technique and interpretive musicianship with a professional concert accordionist. Stradella and Free-Bass left-hand systems; piano-accordion and button-box all accepted.
Doktorski specializes in classical or semi-classical works, but will also guide students who wish to play jazz, standards, and folk music with correct stylistic interpretation. Weekly lessons can be either 30 minutes or 60 minutes in length and are conducted by speakerphone unless, of course, the student lives close enough to drive to Oakdale, PA.
Contact:
(724) 693-8752
henrydoktorski@gmail.com
http://www.henrydoktorski.com/misc/studywithdoktorski.html

Want to add or edit a listing? Let us know.