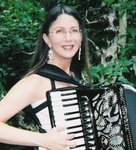 Location:
Frederick, Maryland
About:
Joan Grauman has a degree in music education and has been performing in the Baltimore/Washington area for over 30 years. She was the accordionist in the local Balkan band, BAMCO, for 18 years; the accordionist for the German/Austrian dance group, GTV Immergrun, for 4 years; performed duets with Klezmer clarinetist, Daniel Rozas, for many years; and has been performing and giving workshops all over the country with her duet partner, Stella Allison, for the past 3 years. Joan also directs the accordion group, "The Potomac Ensemble," is on the governing board of the American Accordionists' Association, and is the Vice President of the Washington Metropolitan Accordion Society.
Joan and her husband, Dan, own and operate SqueezinArt specializing in gifts for accordionists. They are also the Directors of the annual Frank Marocco Accordion Event, which takes place in Mesa, Arizona
Contact:
(301) 662-0203
joangrauman@verizon.net
http://www.squeezinart.com

Want to add or edit a listing? Let us know.