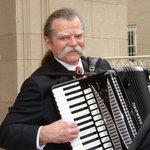 Location:
Vienna, Virginia
About:
Rev. John Giunta is an ordained Interfaith Minister and is available for all spiritual, secular and social events. He holds a Master of Arts degree on the classical guitar from George Mason University. John also attended Juilliard and the Mannes College of Music in New York City. In addition to the guitar, he plays and teaches the flute and accordion as well. John also teaches theory, ear training and a program of his own design: "Yoga For Musicians" (TM). He is an initiate of the Himalayan Institute, founded by Swami Rama and made his pilgrimage to India in 2001. His ordination was held at the Cathedral of Saint John the Divine in New York City. Special learners are welcomed warmly in his studio. He has stage, recording, television, radio and touring experience.
Contact:
(703) 281-5498
jpgiunta1211@aol.com
http://www.SpecialMind.com

Want to add or edit a listing? Let us know.