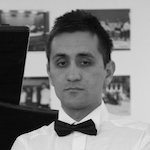 Location:
40 Ashley St
Hawthorne, New Jersey
About:
Klajdi Cerriku is a conductor, pianist, accordionist and trombone player. He holds a Master's in Music Conducting from Akademia e Arteve (Art Academy) in Tiranë, Albania. He is the winner of the International Competition Accordion Spiring-Plovdiv-2003 and member of C.I.A. (Confédération Internationale des Accordéonistes).
I believe that music instruction should be enjoyable, built on a solid technical foundation, inspire creativity, motivate each student and match each individual's goals. We teach all styles of music, from the traditional method series teaching approach, to playing by ear and improvisation, through the classics, popular, blues, jazz, ragtime, contemporary.
Contact:
(862) 232-8390
cerrikuklajdi@gmail.com
https://klajdicerriku.wixsite.com/

Want to add or edit a listing? Let us know.