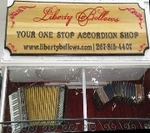 Location:
614 S. 2nd St.
Philadelphia, Pennsylvania
About:
We specialize in piano, chromatic, diatonic, free bass and all other related accordions. We buy, sell, trade, rent, and repair. Conveniently located in Center City Philadelphia, we are a short drive from New York, New Jersey, and Washington DC. We are famous for our video demos that showcase our Used Accordions for Sale.
We also offer lessons for all levels of accordion including a practice band.
Contact:
(267) 815-4407
web@libertybellows.com
http://www.libertybellows.com/

Want to add or edit a listing? Let us know.