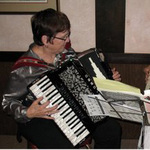 Location:
Portola Valley, California
About:
A long-time musician and self-described accordion activist, Marian Kelly has been involved in Cotati's annual festival since its beginning in 1991. Marian especially enjoys seeing young people play the accordion, and is delighted to hear the accordion turning up more and more in a wide variety of contemporary music. Although her personal tastes tend toward classical, she feels that the accordion's expansion into rock and pop music is a sign of the instrument's popularity and durability.
Marian has held various offices for the Bay Area Accordion Club, and is currently President of the organization. Since Marian has been involved with BAAC, its membership has grown tenfold. She is still teaching, attending international accordion events, and is currently exploring several accordion-related business ideas.
"The accordion is challenging me to find a way to get behind its renaissance and push," she says, "One of these days, I'll decide what I want to be when I grow up, but it's a big effort."
Contact:
(650) 854-1896
kelly.marian@gmail.com

Want to add or edit a listing? Let us know.