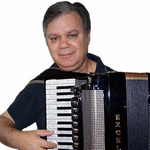 Location:
Sugar Land, Texas
About:
Mario Pedone was born on October 5, 1951, in Valenzano a small town near Bari, in Southern Italy. In an effort to improve the family's financial situation the Pedones immigrated to Valencia, Venezuela in 1959. Mario's older brother, Ludovico had begun to study the accordion and Mario was always watching him hoping one day he also play this wonderful instrument. He persistently begged his father to let him start accordion lessons too and eventually succeeded.
Mario has his own recording studio in Sugar Land where he has arranged and recorded hundreds of tunes including many of his own compositions. His musical range includes, but is not limited to Classical, Latin, European, American Standards. He also produces CDs and cassettes for other musicians.
Mario was invited to perform in the Famous Accordion Festival celebrated in Ransäter Sweden and has also performed at concerts in New York, Dallas, Austin, Boston and many other states in the U.S.
Many of Mario's students feel that Mario is too modest and that with more exposure he would quickly be recognized as a musical genius who has devoted his life to the pursuit of accordion musical perfection.
Contact:
Want to add or edit a listing? Let us know.