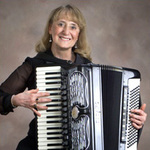 Location:
Northford, Connecticut
About:
Concert Accordionist, Mary Tokarski performs both nationally and internationally as a soloist, with Symphony Orchestra and as a member of The 'K' Trio. For 20 years Mary served as Director of Music Education at Tokarski Music Center in North Haven, Connecticut, where she taught piano and accordion, as well as conducted the choral & ensemble programs, and supervised the pre-school programs. Mary currently teaches piano and accordion at her home in Northford, Connecticut.
She also serves as a Music Educator in the North Haven Department of Education's Early Childhood Development Program at Green Acres Elementary School. Currently, Mary serves as a Board of Director with both The American Accordionists' Association (AAA) and the Accordionists and Teachers Guild, International (ATG) which are the two national member organizations of the Confederation Interntaionale des Accordeonistes, (IMC-UNESCO).
Contact:
(203) 484-5095
mary.tokarski@comcast.net
http://www.accordions.com/mary/

Want to add or edit a listing? Let us know.