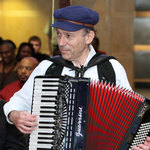 Michael B. Rubin
Teachers
Location:
Rockville, Maryland
About:
Solo and group performer specializing in Jewish music – Yiddish, Hebrew, and Klezmer. Also performs American popular, French, Italian, German, Russian, and Slovenian music. Member of United Jewish Appeal Entertainment Group in NYC for 7 years. Performer with several community theater groups in the DC metro area including Hexagon, Di Shpilers, NIH, Potomac Community Theater, Rockville Little Theater, and Cedar Lane Stage. Member of Accordion Plus Band for 10 years. Faculty member of the Himmelfarb Mobile University. Graduate of the world-famous NYC H.S. of Music & Art and Performing Arts. First oboist with the New York University and Bronx Community Orchestras (BCO). Performed with the BCO at Carnegie Hall. Performs a one-hour show of sing-a-long at assisted living centers and the like. Performs at parties and celebrations. Teaches accordion and piano privately and with the Accordions for Kids program.
Contact:
(301) 294-2619
mbr_music_dnc@yahoo.com

Want to add or edit a listing? Let us know.