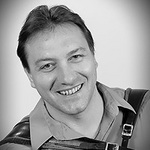 Location:
Portland, Oregon
About:
Milen Slavov is a composer, performer, arranger, and teacher. Born in Stara Zagora in the Thrace region of Bulgaria, he began playing accordion at the age of seven. He graduated from the Filip Kutev Music School in Kotel, then studied for one year at the Musical Pedagogical Conservatory in Plovdiv. He is a skilled master of piano accordion, keyboard, and tambura. He plays and composes music in Bulgarian traditional, contemporary, improvisational, Eastern European, and World Music Fusion styles.
Milen offers downloadable audio and video lessons covering such topics as main ornaments in Bulgarian Music, scores, phrases, techniques, and more.
Contact:
contact@customizedmedia.net
http://www.customizedmedia.net/milen/

Want to add or edit a listing? Let us know.