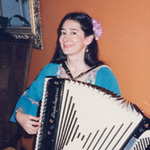 Location:
Berkeley, California
About:
A top Bay Area accordionist, Nada Lewis is an accordion teacher, performer, and ethnomusicologist. Located just north of Berkeley, Nada is well-known as a French, Italian, Klezmer / Jewish / Israeli, Irish, Gypsy / Roma / Balkan, Russian, Romanian, Greek accordionist and international musician — solo or with her ensembles. She also gives vocal and instrumental workshops for all level musicians at several music camps.
Contact:
(510) 243-1122
folkloric@value.net
http://www.folkloric.net/

Want to add or edit a listing? Let us know.