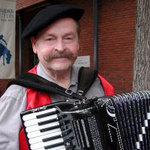 Location:
Dallas, Texas
About:
Nick Ballarini, accordionist, pianist, and bandleader is one of the areas most versatile musicians. Nick served our country as a U.S. Navy musician and is a favorite of accordion clubs around the country. As well as playing weddings, corporate events and jazz festivals as a pianist and bandleader, he also plays his accordion at Irish, French, Italian and German themed events. His repertoire ranges from classical to pop to the many ethnic styles associated with the accordion. Nick has performed with Luciano Pavarotti (2002), Enzo Stuarti, Leon Sash, Matt Matthews, Gary Morris, Anita Bryant, Mel Torme, Princess Grace, The Chieftans.
Do you need an Accordion? You can purchase one, new or used, via our website. Or do you need Accessories for your accordion such as shoulder straps, back pads, back straps, amplification systems, recorders? Purchase them there also! You can view our Services such as events and performances. You can find other accordion artists and associations in our Artists area. In our Resources section, we feature music – sheet, tapes, CD's, even downloadable selections – as well as various accordion artists, books, videos, and links.
Contact:
Want to add or edit a listing? Let us know.