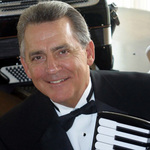 Location:
San Francisco, California
About:
They say everyone has two personalities. In the case of Peter DiBono, it's true. There's the serious, investigative side… that's the one which led to a long, outstanding career as a police inspector with the San Francisco Police Department. Then there's the creative side… that's the side which led Peter DiBono to becoming San Francisco's premier accordionist.
No matter where he's been in his career, Peter has allowed his passion to drive him…. and it shows. Peter DiBono has played accordion for people of all backgrounds and callings: from presidents, royalty, Supreme Court Justices, Hollywood actors, opera stars, to families who want something special for their daughter's wedding or parents' anniversary.
According to Peter, "It doesn't matter where I play or for whom… Playing music is such a joy both for me and my audience. Music is a way to communicate with one another, on a deeply personal level."
As for how one becomes a premier accordionist, Peter started playing when he was 9 years old. His older brother was playing accordion, so, like a typical younger sibling, Peter wanted to do what his brother was doing. But when it's right, it's right. Peter was hooked. And throughout his career as a police inspector, Peter never abandoned his passion for the accordion. In time, he left the police department to pursue his love of music full time.
Being the first call accordionist in San Francisco keeps Peter quite busy, but never too busy to teach accordion to his students. He teaches at the CMS Community Music Center and gives private lessons in his home. And every now and then, he squeezes in some gardening or tinkering with home projects.
Contact:
(415) 753-1502
PeterDSF@gmail.com
http://www.peterdibono.com/

Want to add or edit a listing? Let us know.