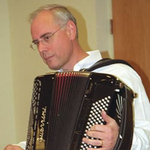 Peter DiGiovanni
Teachers
Location:
Oakton, Virginia
About:
Originally from New York, now lives in Oakton, VA. Has been playing piano since a small child, and accordion for the past 25 years. Affiliated with the Washington Balalaika Society, Russkiye Musikanti, the Metropolitan Washington Accordion Society, the Maryland Accordion Club, and the American Accordion Association. Has performed numerous times at parties and celebrations, grand openings, public and private concerts, and music clubs and festivals. Knows hundreds of songs by ear, covering music for all seasons and a wide range of genres, and is equally comfortable sitting or strolling, playing solo or accompanying singers, or jamming with other musicians. Instruction is available for students of all ages, either at his home in Oakton or at the student's home, and emphasizes ear training as well as traditional methods.
Contact:
(703) 242-2160
peter@musicisforever.com
http://www.musicisforever.com

Want to add or edit a listing? Let us know.