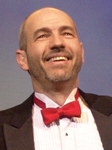 Location:
Vancouver, British Columbia
About:
Richard Tyce's career began with the accordion when his father gave him a quarter for every song he learned to play. This proved good incentive, as he soon memorized over a hundred pieces. Not long after he began performing professionally with his own band, taking his earnings and investing in formal music and voice training. By the time he was 18 he was singing with the Vancouver Opera Company and not long after with the Canadian Opera Company as apprentice to the Ensemble.
When not mounting concerts like Give Me Amor', Richard tours the Pacific Northwest as singer and accordionist with his band The S-Bahn, performing a true "Neapolitan Ice Cream" mix of musical styles. Some of his most well received music is in the Pop-Opera genre, and is featured in his CD Say You Love Me. It was released at the Scandinavian Midsummer Festival Concert June 2009. This concert featured a 45 piece orchestra which Richard dubbed the "The Solstice Orchestra.
Richard's artistry marries lush accordion with romantic tenor singing; effortlessly flowing between musical styles.
Contact:
Want to add or edit a listing? Let us know.