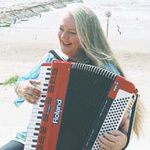 Location:
Galveston, Texas
About:
Shelia is a dynamic accordion performer. Well versed in multiple styles and with a large repetroire, she can entertain solo or with a band for many different style venues – from formal concerts, festivals, conventions, restaurants, cruise ships to house parties, backyard barbeques, and street performer. Styles include: Italian, German, Tex-Mex, Country, Standards, and Party Songs.
Shelia has also published many volumes of accordion music for the beginner to the intermediate player. Many of these include Karaoke, DVD and CDs. She also teaches keyboard and button accordion through Heritage Arts Productions (a non-profit orgainization) and through Houston Accordion Performers.
When Hurricane Ike damaged her their home, lost her – her job, and claimed over half of her sheet music and 2 accordions, she decided to return to what she knew best – writing, arranging, and teaching for the accordion. Together with her accordion cohort – Mark Ropel, they opened Houston Accordion Performers. They selected a location in Pasadena and specialize in teaching keyboard, button, and chromatic accordion. They are sponsored by Heritage Arts Productions – that also teaches Folk dance. Also – she is collaborating with Dr. Kott with MECCA to develop DVD instruction for keyboard and button box accordions.
Contact:
(281) 788-6667
slee@shelialee.com
http://www.shelialee.com/

Want to add or edit a listing? Let us know.