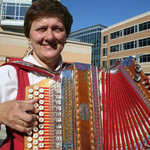 Location:
Arlington, Virginia
About:
Originally from Vienna, Austria. Started learning accordion at age of five from her parents, who also played accordion. Studied accordion under Professor Walter Mauer from 1960 to 1965 in Vienna. Has performed for Volkstanz groups in Vienna and various concerts in Germany and Austria. Also has taught and performed the accordion in Northern Virgina and the Washington Metro area since 1993. Started Magic Mountain Entertainment in 2000. Teaches the piano accordion, diatonic (button box) and the chromatic button accordion. Offers lessons from her home in Arlington or in student's home.
Contact:
(571) 241-0730
eberly777@hotmail.com

Want to add or edit a listing? Let us know.