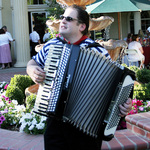 Location:
Vallejo, California
About:
The Italian phrase passione e fuoco, "passion and fire," truly describes the music of singer and multi-instrumentalist Steve Albini. His performances of Italian music fused with jazz and world rhythms have brought him international acclaim. He has enchanted audiences throughout the United States and Italy with a blend of musical virtuosity and artistic passion.
Besides Italian music, Steve enjoys performing the standards of the Great American Songbook (Irving Berlin, George and Ira Gershwin, Cole Porter etc.) as well as his own compositions. As a studio musician he is often called upon by artists, composers, and producers to add his touch to their projects. His latest CD release Italia is a fusion of Italian standards with world, jazz and Latin American musical forms.
Contact:
(707) 484-3753
info@albinimusic.com
http://www.albinimusic.com/

Want to add or edit a listing? Let us know.