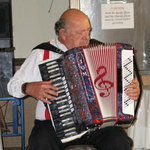 Location:
Petaluma, California
About:
My name is Tom Cordoni. I have been a professional accordionist for over 40 years.
My band and I have played for many parties, political gatherings, parades and weddings (including Robin Williams' first wedding). I also spent many years teaching accordion.
In San Francisco, I played for 15 years at Le Montmartre, a French bistro in North Beach and for eight years at Mulcrevy's, an Irish-American pub. I have played German music at William Tell in San Francisco, Little Switzerland in Sonoma, the Germania Club in San Jose, The Gasthaus in Milpitas and the Pine Brook Inn in Belmont. I played at the Italian-American Social Club, the Italian Athletic Club and the Sons of Italy in San Francisco. I have also played for many Basque festivities.
After moving to Petaluma in 2000, I appeared before the Petaluma City Council several times on behalf of the accordion and was successful in my endeavor as the Council named the accordion, "The First Musical Instrument of Petaluma" and named the 4th Saturday in June as "Celebrate the Accordion Day."
Contact:
Want to add or edit a listing? Let us know.