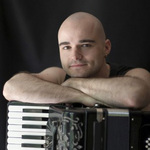 Location:
New York City, New York
About:
Accordionist and composer, Victor Prieto is revolutionizing the way that the accordion is played by creating new sounds and techniques for this instrument. His music embraces different tendencies that come from Jazz, Tango, Classical and Celtic Roots enriched with new rhythms and colors. He is the creator of a new technique for the accordion called "chord approach on both hands" which creates rich and elaborate harmonies.
Victor teaches all levels and ages and has more than 16 years of accordion teaching experience. $60 per hour, $45 per 45 minutes, and $35 per 30 minutes. There is a minimum of 3 lessons per month. Get started right away, I will provide you with all what you need.
Contact:
(917) 535-6855
vpcruz@gmail.com
http://www.victorprieto.net/

Want to add or edit a listing? Let us know.