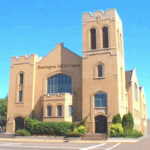 World of Accordions Museum
Shops
Teachers
Location:
1401 Belknap Street
Superior, Wisconsin
About:
At the Harrington Arts Center in Superior, WI, you'll find the World of Accordions Museum, the only Accordion/Concertina Repair and Technician's School in the country, and an accordion store with instruments, music, accessories (straps, back-straps, cases, music stands), and gifts.
Our teaching studios are for beginners to professionals. We teach Piano Accordion, Chromatic Accordion, Button Diatonic Accordions (several variant types), Anglo Concertina, English Concertina, Chemnitz Concertina, MIDI. 12-bass accordions available for rent with lessons.
The World of Accordions Museum is open Saturday, Sunday, and Monday. Admission is charged to tour the accordion museum. (If traveling from a distance, calling in advance is recommended!)
Contact:
(715) 395-ARTS
accordion@sprynet.com
http://musicstudio.accordionworld.org/

Want to add or edit a listing? Let us know.