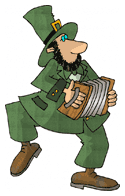 Top o' the morning to ya! While you're busy drinking green beer and making naughty leprechaun jokes, don't forget that the accordion has an important role to play today, too. It's a key element of traditional Irish music (and I'm not just talking about U2). In that spirit, here are a few links to explore on this St. Patrick's Day:
Han's Irish Squeezebox Page and RamblingHouse are good places for an overview of Irish button box playing, including history and biographies of its most famous performers. Han's site even includes fingerings and charts for a handful of tunes.
Will Zarwell's's Irish Accordion Discography is a fantastic resource, with links to audio samples, reviews, and even videos of numerous performers, including Joe Derrane, Andrew MacNamara, and Billy McComiskey.
Joe Cooley only recorded one album, but his unique style of melodeon playing has been hugely influential. You can buy a CD of his album or listen to clips online at Amazon (just try to ignore that they've mislabeled his album as being by Clannad!).
Obviously this is just a starting point — share your own favorite Irish accordion links in the comments.