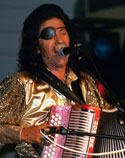 It's a sad day for accordion and Tejano music fans; legendary accordionist Esteban "Steve" Jordan died last night of complications from liver cancer. He was 71 years old.
Known as "El Parche" because of his eye patch, Jordan started his career in conjunto in the 1960s, but soon began exploring and incorporating other musical styles into his work — blending rock, Latin jazz, blues, and salsa with traditional polkas and rancheras. He pushed the limits of the diatonic accordion and wasn't afraid to experiment with new technology, using electronic devices like phase shifters and fuzzboxes to shape his sound.
"'What Steve Jordan did was, he electrified the accordion,' says Sunny Sauceda, a rising star on the squeezebox. 'He used pedals, he brought in jazz influences to the accordion playing. He brought in the effects that had never been done on the accordion — to this day, nobody does it.'"
Definitely one of the all-time greats. Rest in peace, El Parche.