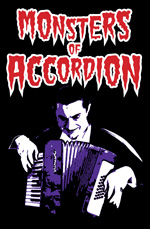 We're still unwinding from a fun weekend at the Cotati Accordion Festival, but there's no time to rest. Not when the Monsters of Accordion are about to unleash their fury on the West Coast. The brainchild of accordion madman Jason Webley, this annual event showcases some of the best accordion-toting singer-songwriters around in a whirlwind, week-long tour.
Joining Webley for this year's edition are Stevhen Iancu of the Dolomites, Eric Stern of Vagabond Opera, and Geoff Berner. At various stops along the way, they'll be joined by special guests like Mood Area 52 and Mark Growden. This year's tour kicks off in Seattle on Wednesday and makes stops in Portland, Eugene, San Francisco, Los Angeles, and Sacramento before winding up in Ashland next Tuesday. (Check our calendar for dates and times.)
Street performer turned cult musician, Jason Webley is known for his gravelly voice, his caterwauling squeezebox, and his unique ability to involve the audience in his shows; most of his concerts end with the entire crowd locked arm-in-arm, singing at the tops of their lungs. (We'll share some video evidence of this from the Cotati festival later this week.)
Jason Webley: Dance While the Sky is Crashing Down mp3
Stevhen Koji Iancu is a Japanese/Romanian British Immigrant who puts together a fiery blend of Gypsy music, fusing older Japanese styles of Enka with subtle elements of Cumbia, Ska, Punk, Balkan and Romanian music, and many other styles from around the world. Iancu has also performed with numerous groups, including Balkan Beat Box, and was a touring member of Gogol Bordello.
Eric Stern is the bandleader and primary composer of Vagabond Opera, Portland's favorite absurdist cabaret ensemble. A premiere operatic tenor, accordionist, composer and showman, Stern commands the room with his incendiary stage presence and devilish virtuosity. Son of an accomplished Gaullic accordionist, he is adept at countless styles, at times performing on a specially-tuned quarter tone accordion to play complex Arabic melodies.
Vagabond Opera: Russian Jazz Waltz mp3
"I want to make original klezmer music that's drunk, dirty, political and passionate. As a Jew of eastern european descent, I feel I have a calling to make this music live, not just preserve it under glass like something in a museum." Berner's music, inspired by traditional Jewish folk song and fueled by whiskey, dresses his wry wit and biting social commentary in shockingly beautiful, plaintive melodies.
Geoff Berner: Whiskey Rabbi mp3
If you need more convincing, check out our recap of the Monsters of Accordion 2007 show in San Francisco, including photos and a video of Corn Mo doing the best solo accordion rendition of "We are the Champions" you may ever hear.