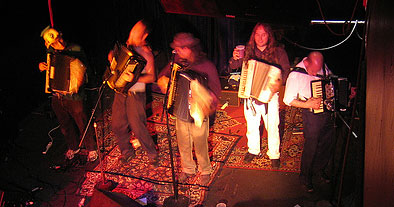 Monsters of Accordion photos
It isn't every day you get to see five of North America's hottest singer/songwriter/accordionists in one place, but we were lucky enough to do so last night at 12 Galaxies in San Francisco as the Monsters of Accordion tour rolled into town. The crowd was incredible — my amateur guesstimating skills say around 300 people — including a handful of Let's Polka readers who came up and introduced themselves throughout the night (thanks for coming!).
The show kicked off with Geoff Berner whose "Canadian klezmer drinking songs" had the crowd singing along from the start. In between songs, he told stories of his great-grandfather's move to Saskatchewan, incompetent French generals of the 1930s, and everything in-between. By contrast, Duckmandu (Aaron Seeman) was all-business, storming through punk covers, country songs, and originals from his new album, Shut the Duck Up and Play Accordion. He closed with his always-popular "flaming hat" rendition of "Highway to Hell."
As soon as Corn Mo hit the stage, one of my friends turned and asked "Is this guy the love child of Meatloaf and Freddie Mercury?" His show-stopping performance of "We Are the Champions" did little to dispute that hypothesis and Corn Mo had the crowd eating out of his hand for his entire set. (Anna declared him "Best in Show" for the night.) Each show on the Monsters tour has featured a special guest and, after Corn Mo, we were treated to a rare set by the Bay Area's own Mark Growden. (Mark wins the award for most drool-worthy accordion — what appeared to be a chromatic Bugari.)
Finally, the man who organized it all — Jason Webley — took the stage and whipped the crowd into a frenzy with nonstop sing-a-longs and even a cover of Outkast's "Hey Ya!" thrown in for good measure. He was floored by the passionate, accordion-loving crowd and remarked that "the tides are changing… in three or four years, people are going to be embarrassed to admit they took guitar lessons as a kid." The show closed with all five accordionists onstage performing (or just drinking along to) Webley's "Drinking Song" as the crowd spun in circles and headed out into the cool San Francisco night.
It was a fantastic event and, if you're in the Bay Area tonight, be sure to catch the last show of the tour over at Smythe's Accordion Center in Oakland. This is absolutely a can't-miss, must-see show. Even if you're up in Cotati today (we're headed there now), you can still make it down in time for the Monsters show.
For those who couldn't be there last night, here's a video I recorded of Corn Mo performing "We Are the Champions":