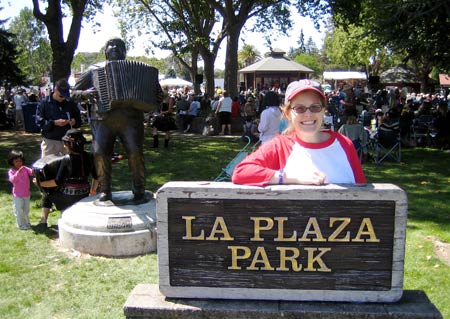 Cotati Accordion Festival Photos
Ah… another year, another glorious weekend spent at the Cotati Accordion Festival. We spent nearly ten hours in La Plaza Park today, listening to an incredible collection of accordion-oriented artists. Where else can you hear a klezmer band followed by a yodeling, accordion-playing cowboy? Or see hundreds of white doves released into the sky as a crowd plays "Lady of Spain"? Only in Cotati.
We finally got to see Brave Combo live and they didn't disappoint; it only took a couple songs before they had most of the crowd in a giant conga line, weaving their way through the park. Culann's Hounds were a big hit, too; I'm glad that word's getting around about how good they are. We heard virtuoso accordionists across the generations, from Tony Lovello working the crowd to Alex Meixner alternating between piano and button accordion to young Coupe Mondiale participant Sammy Thomas. We also grabbed a hot-off-the-presses copy of the new Those Darn Accordions album, Squeeze Machine (review coming soon!).
And while Anna didn't win the raffle this year, we still had a fantastic time. We were completely blown away by the number of people who came up to us and mentioned the site. Thanks for all your support and hopefully we'll be reporting on Cotati Accordion Festivals for years to come.