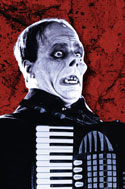 Lock up your kids! The Monsters of Accordion all-accordion road show is back and ready to take the West Coast by storm. This year's tour — which starts Thursday in Santa Rosa — is bigger than ever, with stops in ten cities including San Francisco, Oakland, Los Angeles, Portland, and Seattle. Tour organizer Jason Webley is headlining once again; Mark Growden, Amy Denio, and Duckmandu will join him for every stop. Meanwhile, each show will include special local guests, including Eric Stern of Vagabond Opera, Dan Cantrell, Mrs. Hobbs, and many more.
As an added bonus this time out, the Monsters will be holding "Accordion Monster Master Classes" in Oakland (August 17) and Seattle (August 24). Class topics will include "choosing an accordion, left-hand technique, DIY instrument repair, audience participation, accordion for punks, repairing your van with a handgun, and the role of the accordionist in the digital era."
Anna and I went to the show in San Francisco last year and it was easily one of the best (and most fun!) accordion events we've ever attended. Check out our photos and a video of the incomparable Corn Mo performing "We Are the Champions," then make your plans to catch this year's tour.