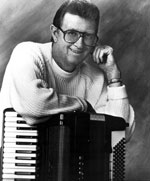 There aren't a ton of jazz accordionists and one could argue that, if it wasn't for Art Van Damme, there might not be any at all. Often called the father of jazz accordion, Van Damme was a pioneer who helped establish the accordion as a serious jazz instrument. He passed away on Monday at the age of 89.
Heavily inspired by the recordings of the "King of Swing," Benny Goodman, Van Damme developed his early style by adapting Goodman's solos to the accordion. In 1945, he joined NBC Radio as a studio musician where he recorded more than 150 shows with his quintet, in addition to numerous TV appearances on the Tonight Show, Dinah Shore Show, and others. Over the course of fifty years performing, he recorded more than 40 albums, toured throughout Europe and the US, and was voted "Top Accordionist" in Downbeat magazine's annual poll of jazz musicians ten years running. His melodic improvisation and light touch were hallmarks of his playing.
If you're interested in exploring Art's music, you can find a few of his 1950's albums on iTunes. I also highly recommend the four-CD compilation Squeeze Me: The Jazz and Swing Accordion Story. It's an excellent introduction to jazz accordion and features tracks from Van Damme, Joe Mooney, Johnny Meyer, Mat Mathews, and many more.