A friend recently visited the World of Coca-Cola museum in Atlanta and found this vintage advertisement with "internationally known musician and entertainer" Graham W. Jackson enjoying a bottled Coke while playing his accordion: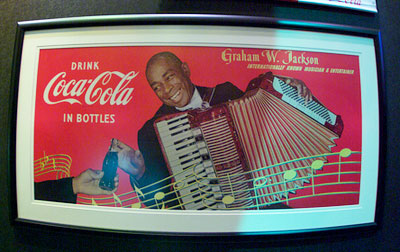 world of coca-cola, uploaded by tinyprayers
The son of a well-known singer, Jackson displayed musical talents at an early age and gave piano and organ concerts while still in high school. He was an active performer and bandleader throughout his lifetime, was once designated the official musician of the state of Georgia, and was reportedly the favorite musician of president Franklin D. Roosevelt.
It was Jackson's association with FDR that made him the subject of one of LIFE magazine's most famous photos — and possibly the best-known accordion photo ever taken. This photo of Jackson tearfully performing "Goin' Home" as FDR's body was carried from the Little White House in Warm Springs, GA, where he died, symbolized the nation's grief over the president's passing.