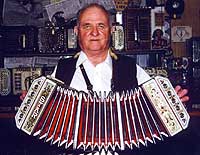 Art's Concertina Bar in Milwaukee is a polka institution. Billed as the "only Concertina Bar in the U.S.A.," the walls are lined with concertinas and memorabilia, there are live bands and dances every weekend, and the affable Art Altenburg presides over it all, posing for photos with tourists and squeezing out the occasional tune on the concertina.
Art's been trying to sell his business, though, so he can spend more time with his ailing mother. After a long search, he's finally found a buyer: Andy Kochanski is taking over later this month and, thankfully, will be keeping the music that Art's place is known for alive. Art's Concertina Bar will become Kochanski's Concertina Beer Hall and Andy will even allow accordions in (Art had strict concertina-only rules):
"It's open to people and musicians who just love polka music… I'm going to do as much as I can for the polka community."
Meanwhile, the 78-year-old Art still has dreams of his own to pursue:
"I'll probably go chasing women, do a little playing, and do a little traveling."
Sounds like a plan to me! There's a farewell party for Art planned for next Saturday night, October 13, on his last night in business. Get there early and roll out the barrel one more time with a polka legend.