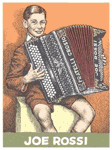 I've heard that Saturday morning is the most active time of the week on eBay, so it's the perfect time for another roundup of unique, accordion-related items. This time around, we're focusing on printed materials we've uncovered:
R. Crumb Accordion Trading Cards
Artist/illustrator R. Crumb has always been a music lover, collecting thousands of records and even playing banjo in his own band. Over the years, he's drawn portraits of numerous musicians, including his "Heroes of the Blues" and "Pioneers of Country Music" trading card sets. This set, though, is a collection of 36 cards depicting French accordion players (including Gus Viseur, Charley Bazin, and more) titled "Les As Du Musette." Replace your son's baseball cards with these and watch his appreciation for musette music grow… "I'll trade you a Joss Baselli for your Jo Privat!"
1936 Hohner Piano Accordion Catalog
Take a trip down memory lane with Hohner's 1936 collection, including a top-of-the-line, custom-built accordion ("The Monarch of All Piano Accordions") with 196 bass buttons and curved buttons for the low, low price of $1000 (or approximately $14,000 in today's money).
The Mastery of the Bellows Shake
Written in 1952 by Bill Palmer (of Palmer-Hughes fame), this book promises to help you master "brilliant and exciting bellows shake." It even comes "approved and recommended by the creator of the bellows shake, Pietro Frosini." Shake that, Contino!
That's all for now — happy bidding!