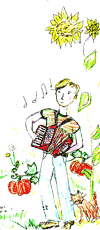 There are only a handful of American cities that you could honestly call "accordion hotspots"; places like Cleveland, San Antonio, or Lafayette, for example. But if Hoosier Squeeze is any indication, the number might be on the rise.
Founded in 2000, Hoosier Squeeze is a group of passionate accordionists in the Bloomington, Indiana area whose goal is to "promote the current renaissance of the sublime accordion."
Led by Sophia Travis (who moonlights as President of the Monroe County Council) and made up of accordionists of all skill levels, the group meets regularly to play and share music. They've performed at numerous community events and even sponsored an accordion workshop last month at Bloomington's annual Lotus World Music and Arts Festival.
With Hoosier Squeeze's help, it sounds like Bloomington is well on its way to becoming one of those famous accordion hotspots…
Hoosier Squeeze: Surprise Polka (MP3 download)