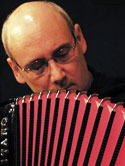 There's an interesting Wall Street Journal piece today on one of our favorite artists: composer/accordionist Guy Klucevsek. The profile covers his diverse career, including his compositions, soundtrack work, and involvement in Accordion Tribe. But it focuses on how difficult it is for even an accomplished player like Klucevsek to find steady, rewarding work, particularly in the United States:
"During my 40s, I was starting to make a living… During my 50s, I was able to make one. Now I'm 60, and it's borderline… I'm loath to complain… because I chose the path myself, and I knew what it was like when I chose it. I'm lucky I've been able to do it for this long."
Klucevsek, for instance, played in the orchestra pit for six performances of Kurt Weill's "Rise and Fall of the City of Mahagonny" at last month's Spoleto Festival in order to book a solo recital at the festival. (The Journal likened it to "paying Tiger Woods to compete in a miniature golf tournament.") His American concert schedule is very light this year, but he will be performing this Sunday during the Accordionology festival at Barbes in Brooklyn, New York.