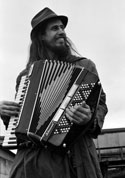 Few performers connect with their audiences as well as Seattle songwriter/accordionist Jason Webley. Known for his gravelly, Tom Waits-ish voice and feverish foot-stomping and bellows-pumping, he's built a loyal following with theatrical shows that not only invite audience participation, but practically demand it. He also has a thing for tomatoes.
Jason is the brains behind the Monsters of Accordion tour, an all-accordion extravaganza taking place on the West Coast this week. We recently had the chance to talk to Jason briefly about the tour and his work.
If I've counted right, I think this is the third or fourth Monsters of Accordion tour. How did it all start? What was the inspiration?

We got the idea for the Monsters tour at an event I was invited to headline at Smythe's Accordion Center maybe 4 years ago. I had never seen so many other accordion freaks before, and I really fell in love with a couple of them (Daniel Ari and Duckmandu) so we decided to try and do a little accordion only tour. So this is actually year three for "Monsters of Accordion." The three of us did the west coast together twice, I think. But I was always the main draw on those tours and somewhere I decided that, if I was going to do it again, I wanted to make it bigger than just me. So I invited Corn Mo and Geoff Berner, who both tour all over and have their own followings. And they are amazing. I think it is going to be a great run.
Very cool. Have you played with either Geoff or Corn Mo before? I've also heard there'll be special guests in each city. Who else is involved?

I've played with Corn Mo in New York a couple times over the years. We met the first time I played the city maybe four or five years ago. Geoff has been on my radar for a while and we've done a couple shows together in the past couple years.

The special guests are exciting. We have Amy Denio in Seattle. I just found out she will be bringing her whole accordion quartet out for the show. They're called Hell's Bellows. In Portland, we are joined by Eric Stern who is the front man of the Vagabond Opera. Eric and I actually met years ago at the Fringe Festival in Saskatoon. In Eugene, we are doing two shows back to back so no time for a guest, but in San Francisco Mark Growden is coming down to play and in Oakland, which is a smaller venue, I've asked Kimric of Smythe's Accordion Center to do a special demonstration for the audience.

And anyone who knows Kimric knows that his demonstrations are not to be missed. He's amazing (and a nice guy, to boot). So, when did you start playing the accordion?

I was working on a play my last year of college and it needed something special for the last act. My folks had picked up an accordion at a garage sale and I called them up and asked if I could borrow it.

How soon after that did you start playing the accordion solo? Were there particular artists that influenced your style?

You know, I just started doing it. I quit my job and had made my first album, which actually has very little accordion on it, but I just began playing on the street to sell the CDs. This would have been 1998. I had no idea of any other songwriters playing accordion at that time, and had never listened to any accordion music really. Well… I loved Astor Piazzolla, but he doesn't play accordion and isn't really much of a direct influence.

You've done a few musical collaborations recently (Eleven Saints, How Big is Tacoma). What inspired those collaborations? Do you have any more on the way?

There are going to be eleven of them in total. The next one comes out in September. I'm not sure what inspired them, exactly. A few things. One is all the amazing musician friends I meet. Another is the desire to break away from my usual ways of writing songs and thinking about music by working with new people. It has been a lot of fun, and I am excited to keep working on them.

One idea I have for one of the later projects is complicated but would interest you. I know so many accordion players all over. I want to to do one with 11 accordion players, where I write one song each with 10 other accordion players. But the main song would have everybody playing and singing. Taking turns. A big anthem. The "We Are the World" of accordion. I've got most of the 11 players figured out, but for the last couple I am hoping for some biggies. I know a few folks who know Weird Al.

And finally, what can you tell us about your new album? How does it differ from your previous work?

It is kinda my 'rock' album. Lots of drums. Pretty straight rhythms. There are a couple accordion driven tunes, but mostly it is a 'band driven' album, so maybe some accordion fans will be disappointed. I don't know. I think it will be my best or worst album. I am still working on it so I can't tell. These next few days at home it will hopefully come together a lot.
Catch Jason on the Monsters of Accordion tour this week in Seattle, Portland, Eugene, San Francisco and Oakland. Check our events calendar for details.