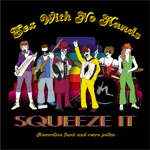 From Sly and the Family Stone to Tower of Power, the San Francisco Bay Area has a rich history of funk music. I'm willing to bet, however, that Sex With No Hands is the first Bay Area funk band to feature dueling accordions. Nevertheless, this six-piece party band is making a name for itself from China Basin to the Marina with sweaty, high-energy shows and accordion-driven homages to the late 1970s.
Their recent EP, Squeeze This, showcases the band's eclecticism, echoing the sounds of Parliament, Billy Idol, and a cheesy conjunto in the span of just four tracks. In between the accordions, you'll hear plenty of keytar, synthesizer, cowbell, and Frampton-inspired talkbox. You can download the full EP for free from their site.
Like any good party band, however, Sex With No Hands is best experienced live. (It's tough to convey the power of a truly awesome laser light show through an mp3.) Fortunately, you can catch their Halloween bash next Friday night at Ireland's 32 in San Francisco. Tickets are limited, but you can buy them online.