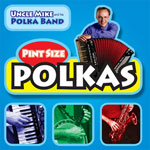 We're just starting to explore the vast world of children's music, but Pint Size Polkas by Uncle Mike and his Polka Band already sounds like a must-have for our collection.
Creator and Wisconsin polka musician Mike Schneider first heard polka music when he was five years old and, even then, the bouncy rhythms made a lasting impression. He recorded Pint Size Polkas "to help children and their families discover the good, clean fun that you will experience with polka music." With songs like "Alphabet Polka," "Numbers Schottische," and "Tiny Bubbles in the Tub," children will learn about the alphabet, numbers, and even hygiene while dancing to a polka beat.
If you're in the Midwest, keep an eye on your local news — Mike's been doing a number of local TV appearances over the past few weeks. If you miss those appearances, you can catch the video for "Jolly Lumberjack Polka" on YouTube.
Uncle Mike and his Polka Band: Jolly Lumberjack Polka mp3