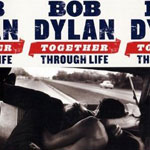 It only took forty years and thirty-three albums for Bob Dylan to realize what we already knew — that the accordion is the perfect instrument. His latest record, Together Through Life, which debuted at the top of the charts last month, features the excellent Tex-Mex accordion stylings of Los Lobos frontman David Hidalgo on nearly every track. I think Dylan's only regret is that he didn't realize the accordion's value earlier in his career:
"I wished I had used it more on some of my past records… I use an accordion player when I play off-road shows. It's a perfect instrument in a lot of ways. It's orchestrative and percussive at the same time. Actually accordion players were the first musicians I had seen a lot of growing up."
Amen, Bob. You're preaching to the choir here.
Bob Dylan: This Dream of You mp3