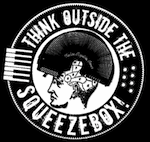 We're no strangers to accordion concerts, festivals, or even hootenannies. But a symposium? Indeed, the first-ever "Thinking Outside the Squeeze Box" Accordion Symposium will take place this September 23-25 in Cedar Rapids, IA.
The symposium will celebrate the way accordionists have been mixing traditional music with new approaches. There will be jam sessions, dance parties, and workshops on topics ranging from "Techniques of Rock Accordion" to "Stretching the Horizons of the Button Box". Presenters and performers are coming from across the country and include Paul Rogers (of Those Darn Accordions), Maggie Martin, Renee de la Prade, Roxanne Oliva, Ron Borelli, and more.
Why Cedar Rapids? Cedar Rapids is home to the Czech and Slovak National Museum and Library and has a long tradition of accordion music. Leo Greco, who passed away this week, was one example — he played accordion for years and led his own band (Leo and the Pioneers) in the 50s and 60s.
Can't make it to Iowa? If you still want to support the symposium, consider backing their Kickstarter campaign and help offset the cost of hosting the event.