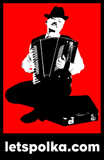 What's black and white and red all over? The first batch of Let's Polka stickers! They're bright, shiny vinyl and they'll look fantastic on your accordion case, music stand, bumper, laptop, newborn baby, or wherever you enjoy sticking your stickers. Best of all, we're giving them out absolutely free — all you need to do is tell us a story.
Here's what you do: Write a comment on this post telling us who or what got you interested in the accordion. Was it the sound of a strolling accordionist at a sidewalk cafe in Paris? An Oktoberfest gone wild? A Weird Al rock and roll polka medley? Tell us your story (be as brief or long-winded as you please) and we'll follow up via email and send you a handful of stickers. It's that easy!
And if the stickers weren't enough, one lucky (randomly-chosen) commenter will also receive a copy of the new Corner Laughers album mentioned earlier today. So what are you waiting for? Get free stuff!